Press Releases
>
Huawei Cloud Enterprise Intelligence – New Driver Accelerating Industry-Wide Upgrades
Huawei Cloud Enterprise Intelligence – New Driver Accelerating Industry-Wide Upgrades
Nov 02, 2018 GMT+08:00
During a keynote speech at Huawei Connect 2018, Jia Yongli, General Manager of EI Service Product Dept of the Huawei Cloud BU, announced that the enterprise intelligence (EI) suite offered in HUAWEI CLOUD would feature the accelerations of Huawei's latest AI chip. He also shared some of the best practices in implementing the Huawei EI suite and officially released the EI for Smart City utility package.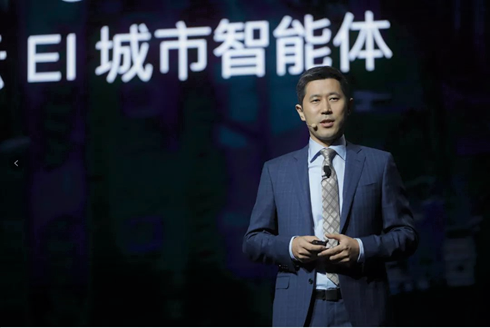 Jia Yongli, General Manager of EI Service Product Dept of the Huawei Cloud BU, delivering his speech
Important Discoveries in Artificial Intelligence
Jia Yongli said that since the launch of the Enterprise Intelligence suite at HUAWEI CONNECT in September 2017, HUAWEI CLOUD has explored more than 200 projects in eight industries (including urban management, manufacturing, logistics, and Internet) in applying AI to enterprise-specific scenarios. In doing so, HUAWEI CLOUD has made the following three major discoveries:
Value - AI extends the value of IT enablement to production and is accelerating the creation of direct value.

Talent - Experts from both the general tech and industry-specific sides need to develop solutions and problem-solving paths together.

Productivity: The cleanup, marking, and training involving massive data sets still take weeks and months to complete, and an AI model will be invoked for tens of millions of times, which means immense amounts of compute power must be on the ready.Full-Stack, All-Scenario Capabilities of HUAWEI CLOUD – It's All About the Chips!

In response to the pressing needs for accelerated, vast storehouses of compute power, and agility in industry-specific profiles, Jia Yongli announced that the latest Ascend 310 and 910 AI chips released by Huawei will be used to power the EI suite in HUAWEI CLOUD. The chips provide the full-stack capabilities to meet the needs of any service scenario. With the newest capabilities in AI, HUAWEI CLOUD EI provide services for everything from virtual machines (VMs) and containers to bare metal. For H series high-specs VMs, one Ascend 310 chip improves compute performance by 16 times. Users can configure the highest 512TOPS inference service to suit the requirements of heterogeneous ECS and CCI services. In training scenarios, HUAWEI CLOUD EI provides up to 2PFLOPS in compute capability for ECS and bare metal.
With the incredible computing capabilities, HUAWEI CLOUD EI will provide 45 services and 142 functions from basic platform services to common APIs, advanced APIs, and pre-integration solutions. These services will cover various application scenarios for senior AI data scientists, data engineers, mid-level IT engineers, and service development personnel.
HUAWEI CLOUD EI Injects New AI Capabilities into the Industrial Layout
Jia Yongli said that HUAWEI CLOUD is committed to improving productivity for industries by replacing repetitive operations with automated handling options made possible with the new AI toolshed, breaking through barriers in improving efficiency in production environments.
The deep learning and image search services in the HUAWEI CLOUD EI help TukuChina.com improve accountability tracing in upload of massive amounts of copyrighted images and support automated stock-in and cross-check of hundreds of thousands of new copyright pictures and tens of millions of pictures in the network every day with an accuracy rate reaching 99%.
In the field of medicine, pathology is known as the "gold standard" of clinical diagnosis. Pathologist need to carefully observe thousands of cells under a high-magnification microscope and accurately match the results to hundreds of cases. Not an easy task by any means. Adding to the dilemma, China alone is short about 100,000 of these professionals to adequately fill the need. In order to improve the efficiency of detection, a third party medical examination institution Kingmed Diagnostics cooperated with HUAWEI CLOUD. The team from Huawei made breakthroughs in the technical aspects of pathological detection of cervical cancer in quick order with use of the new AI technology toolshed – sensitivity exceeds 99% and specificity exceeds 80%. This is just one of the many examples in which HUAWEI CLOUD EI has brought in field-specific experience and applied it to AI adoption for enhanced outcomes.
HUAWEI CLOUD EI for Smart City
The HUAWEI CLOUD EI Intelligent Twins can be used to solve various industry problems. Industry-specific applications helps organizations improve productivity with enhanced intelligent applications to suit their profiles. In June 2018, Huawei launched HUAWEI CLOUD Traffic Intelligent Twins.
HUAWEI CLOUD Traffic Intelligent Twins uses AI to collaborate with cloud, big data, Internet of Things (IoT), and edge computing technologies to continuously explore more efficient ways to schedule resources and deliver the optimum configurations in transportation, environmental protection, emergency handling, and water services. The full-scenario AI service platform purpose-built for urban management enhances efficiency, reduces energy consumption, and improves green credentials for municipalities.
Shenzhen Traffic Police Enlist the Services of HUAWEI CLOUD
Li Qiang, Director of the Science and Technology Dept at the Shenzhen Public Security Bureau said that his units were able to achieve the goals of their intelligent law enforcement agenda quickly with the support of HUAWEI CLOUD Traffic Intelligent Twins.
In the first half of 2018, AI applications able to pick up if vehicle operators are using their cellular devices while driving, have failed to secure their safety belts, or are performing other dangerous acts while behind the wheel of a motorized vehicle have helped improve the enforcement rate by 15% in Shenzhen.

Congestion used to be so bad in Shenzhen. Drivers could often count the meters they moved in several minutes during rush hours. All that has changed since the Shenzhen Traffic Police deployed the EI TrafficGo solution at 43 intersections in Bantian, Longgang, and others parts of Shenzhen. During the pilot configuration, the average wait time at key intersections was shortened by 17.7%, an impressive accomplishment and a warmly welcomed improvement by commuters.

Build of a new operation command center achieved the "faster legs, stronger brain" objective in emergency response of the municipal police unit, shortening response times 67% while making all new levels of efficiency in event management possible.
Sanlian Hongpu and Huawei Cloud
Zhang Minzhe, Director of Beijing Sanlian Hongpu New Fiber Technology Service Co., Ltd. had the following to say about the welcomed improvements to production with the EI suite from HUAWEI CLOUD:
For a long time, the textile industry has been dealing with the dichotomy of high requirements in product consistency and the need to meet customization requirements, which in effect work contradictory to each other which in turn makes spot checking against a set criteria difficult. With the new cloud-pipeline-edge synergies available for our industry, we can now place a lot of product-related data and requirements on the cloud in the training modules. Adding the real-time online quality analysis of edge computing into the feature-rich database builds allow us to better match the precise quality requirements of individual customers. Based on the quality preferences of customers, we can sort precisely what they need and form a flexible software-defined production system. We can now match precise requirements 28.5% better than before with the potential for flexible manufacturing.
In closing, Jia Yongli said: "Huawei's new AI chip delivers the needed boosts in compute power to make HUAWEI CLOUD the best choice in pillar-tech enablement, including big data analysis and artificial intelligence offerings. We are working with many partners to make cities safer with our EI offerings for urban management and Smart City. The EI suite in HUAWEI CLOUD is the new engine driving upgrades across many industries. Our Inclusive AI strategy is allowing everyone to get what they need and make easy use of cutting-edge tech all with the full assurance that their profile will remain fully secure throughout the entire lifecycle in the new AI-enabled era."