Carefree Experience for IoT Devices
Pain Points
Device fragmentation is serious. Various protocols and complicated standards cause long periods of interconnection.
Solution
A series of Agents are provided to help devices with different capabilities integrate with the IoT platform. The powerful protocol conversion capability of the CIG makes device access more flexible. Access from devices using MQTT, TCP, and HTTP protocols is supported.
Pain Points
Devices cannot be efficiently managed, device access cannot be unified due to different access networks, and connections are not stable.
Solution
The IoT platform provides comprehensive device management capabilities such as profile definition, data collection, device shadow, batch operation, remote diagnosis, and OTA upgrade.
Pain Points
Devices are isolated from each other, and event processing is not flexible.
Solution
The flexible rule engine allows users to customize trigger conditions (for example, time, device, event, and rule status) and actions (for example, notification, device command, and configuration status) to handle different events, linking devices and implementing intelligent control.
Pain Points
It is time- and labor-consuming to locate device faults.
Solution
The efficient remote O&M capability allows O&M personnel to remotely collect device fault logs, locate faults, restart devices, or restore a device to factory settings, reducing labor costs from local maintenance.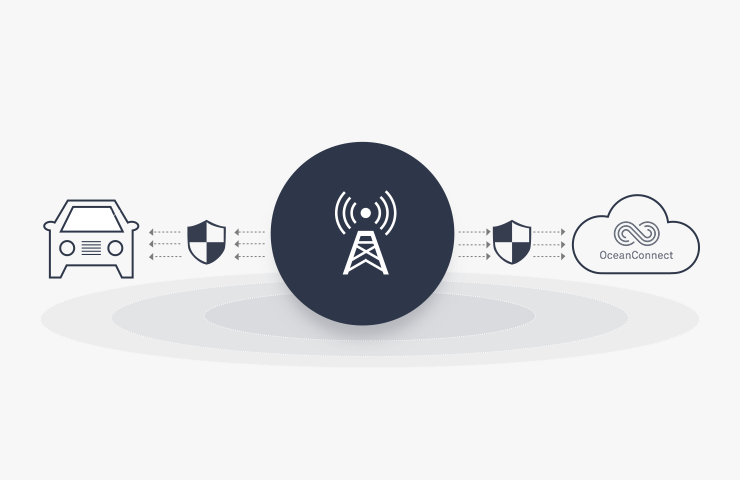 Pain Points
Attackers tamper with device data and forge devices to access the IoT platform, creating security threats.
Solution
The comprehensive security system protects IoT services. On the network side, the IoT platform provides flood protection capabilities to prevent malicious attacks and ensure reliable device access. On the cloud side, the IoT platform supports detection and isolation on the cloud using big data technologies to protect personal privacy and prevent IoT data from being maliciously damaged or disclosed.
Application Scenarios
Smart Community
Challenges
There are various types of community devices, which require manual operations, thereby resulting in high maintenance and management costs. Subsystems such as surveillance, firefighting, and building automation are isolated from each other, which makes it difficult to implement linkage control.
---
Customer Benefits
Unified management can be achieved with IoT devices in the community connected through multiple networks and protocols.
Cross-system linkage can be implemented through the interworking between the IoT platform and the subsystems based on simple and flexible rule configuration. In this way, community services can be more proactive than reactive with the prediction, warning, and determination.
Dock Management
Challenges
Currently for most factories, the dock and vehicle status in the campus cannot be obtained in real time. As a result, vehicle queuing and congestion may occur, while there are still idle docks on site. In this case, unloading cannot be flexibly scheduled, resulting in a low delivery efficiency.
---
Customer Benefits
Flexible scheduling of docks improves the parking turnover rate.
The on-time delivery rate of suppliers is improved, ensuring efficient production in factories.
All docks are visually monitored in real time for intelligent dock scheduling and labor cost reduction.
Intelligent Device Management
Intelligent Device Management
Challenges
It is difficult to detect minor abnormalities of medium- and large-size equipment during routine maintenance. If the equipment becomes faulty suddenly, the production line is forced to stop, and the factory suffers great losses.
---
Customer Benefits
Device health can be evaluated in real time and quantitatively.
The subhealth status of devices can be predicted in advance, enabling maintenance planning for devices and reducing the losses caused by unplanned shutdown.
The maintenance cost of the next year, the residual value of second-hand machines, and the performance decrease of main components can be estimated to provide basis for the equipment investment in the coming year.
Product Architecture
Advantages
Agile and Easy to Use

The IoT Agent series and OSGi-based CIG support fast device access to the cloud platform by using wired and wireless network access modes. Mainstream chipsets and modules are pre-integrated.

Comprehensive and Efficient

The user-friendly device management portal provides comprehensive device management capabilities, such as device status visualization, remote configuration, fault locating, and firmware/software upgrade.

Flexible and Open

Rich APIs and open device management capabilities are provided to quickly foster NAs. Functional components and data analysis for smart cities, connected vehicles, and smart campuses drive industry intelligence.

Reliable and Concurrent

Hundreds of millions of connections are supported, with 99.9% reliability. E2E security mechanisms, device-level authentication and authorization, and application-level access control are also supported.