One-stop O&M

Logs, alarms, and diagnostics for applications (including distributed applications) and resources (such as computing, storage, and network resources)

Out-of-the-Box

Automatic discovery and monitoring of applications; and easy O&M using intuitive graphical interfaces requiring no coding

In-Depth Integration

Interconnection with cloud services such as Elastic Cloud Server (ECS), Cloud Container Engine (CCE), and ServiceStage to obtain O&M data for in-depth monitoring

Intelligent Analysis

Issue pre-detection through different anomaly detection policies (such as static threshold and dynamic threshold) and pre-notification through events and alarms
Application Scenarios
Device-Cloud Full-Link APM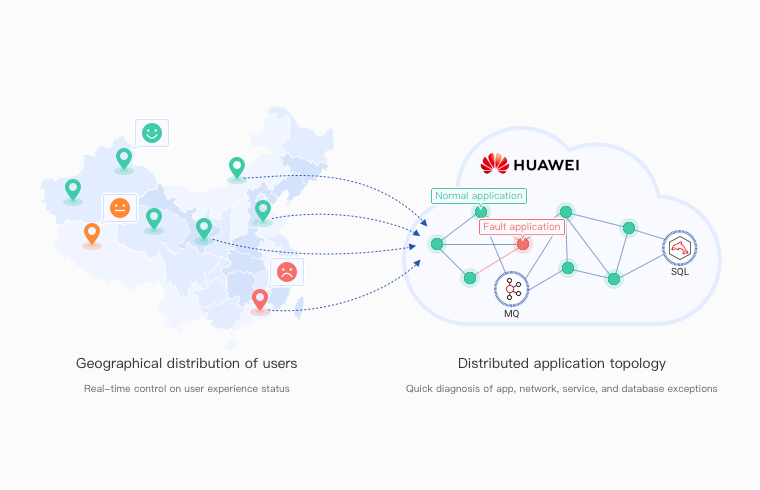 Device-Cloud Full-Link APM
Trace performance from device to the cloud with a panoramic topology showing the running statuses of all applications, accelerating fault diagnosis and providing you with a clear picture of the entire app mashup.
Advantages
Distributed tracing technology reproduces the problem so performance bottlenecks in code can be quickly located.
Root causes are quickly identified with real-time intelligent analysis utilities.
Non-intrusive tracing points instead of SDKs are used to quickly connect applications.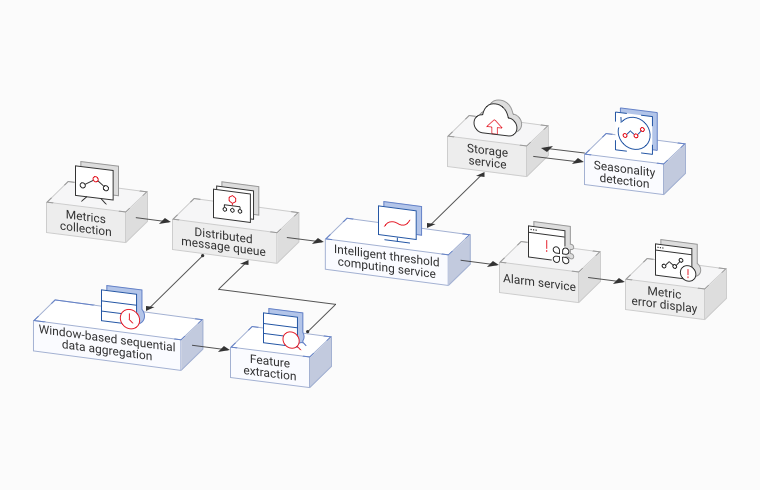 Intelligent Analysis
AI algorithms analyze trends in O&M metrics to help you predict potential abnormalities, including dramatic increase in metrics and changes to rules.
Advantages
Matches the best algorithm based on information analyzed from O&M metrics.
Alarms can be suppressed by automatically adjusting algorithm parameters.
Occasional and discrete glitch signals can be filtered automatically, helping avoid false alarms.
Inspection and Problem Demarcation
Inspection and Problem Demarcation
AOM collects infrastructure, middleware, and application instance data. It provides metric monitoring, log analysis, and event and alarm reporting functions to support problem discovery and demarcation.
Advantages
Automatically deploys collectors to discover and monitor applications based on different application operation environments.
Supports unified O&M and multi-layer service diagnosis for distributed applications (applications that use more than one cloud service).
Provides different anomaly detection policies, flexible event and alarm notification methods, and open event and alarm APIs.
Multi-layer O&M
AOM provides O&M capabilities from the cloud level to the resource level and from application monitoring to ServiceStage tracing.
Advantages
Real-time monitoring of service KPIs and root cause analysis of anomalous transactions
Distributed calling and tracing to fast locate fault points
Real-time monitoring of hundreds of container, disk, and network O&M metrics, and cluster > virtual machine > application > container anomaly correlation analysis
Functions
In-depth monitoring of cloud applications (such as ECS, CCE, APM, and ServiceStage) tailored to the application monitoring environment

Automatic discovery and monitoring of applications, and easy O&M using intuitive interfaces requiring no coding

Customizable dashboards with multiple themes and presentation modes (such as line graphs, pie charts, and progress bars)
Cloud Environment Monitoring
Automatic Application Discovery