Press Releases
>
HUAWEI CLOUD AI Wins Four Leading Technology Awards at the 2019 Big Data Expo
HUAWEI CLOUD AI Wins Four Leading Technology Awards at the 2019 Big Data Expo
May 26, 2019
On May 26, 2019, the China International Big Data Industry Expo was officially opened in Guiyang, Guizhou, and the "2019 Leading Science and Technology Achievement Awards" was released. HUAWEI CLOUD won four awards with its industry-leading artificial intelligence services. The one-stop AI development platform ModelArts won the "2019 Leading Technology Achievement Award". The intelligent OCR product won the "New Product" award. The Knowledge Computing Service and the HiLens device-cloud collaboration AI video platform both won a "New Technology" award.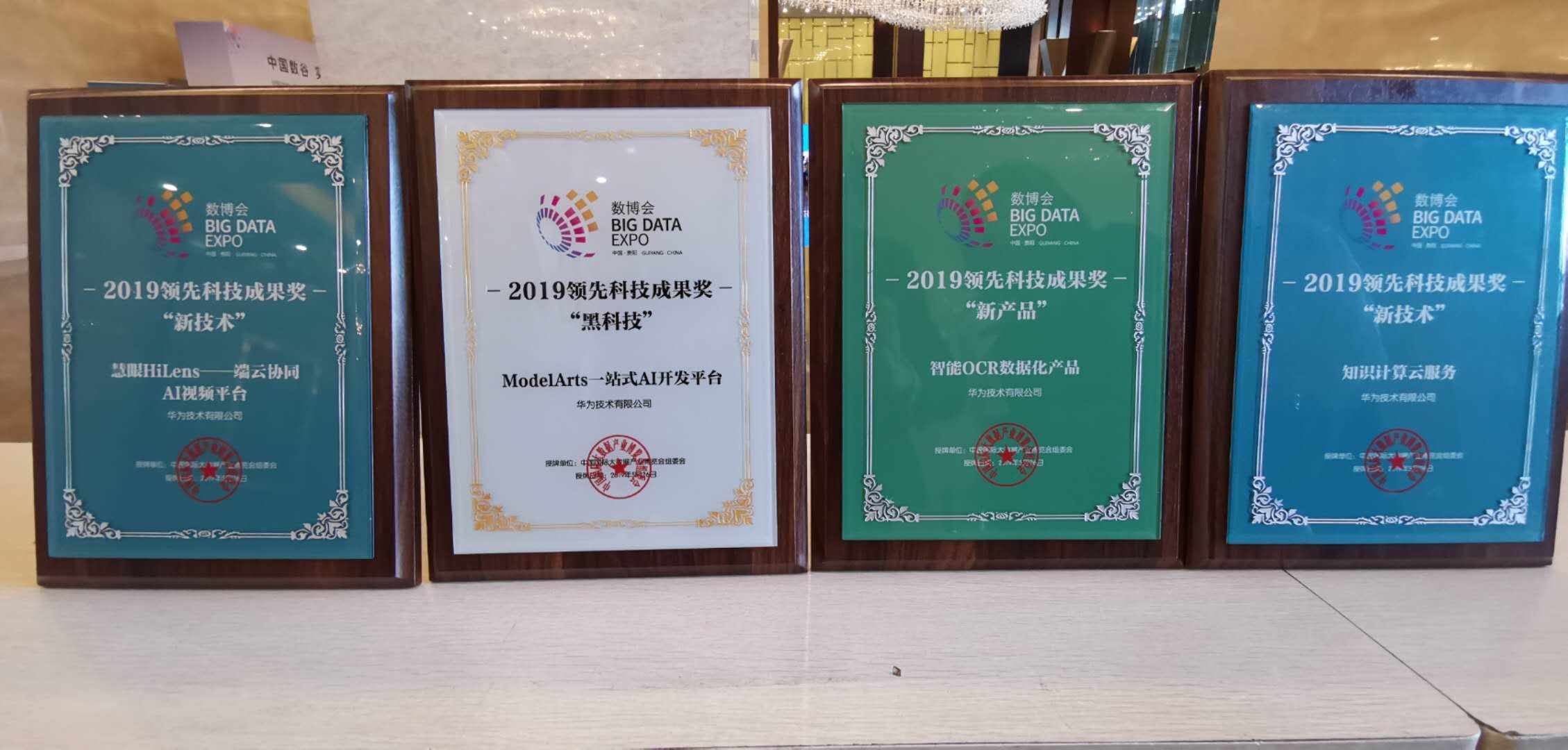 The Expo is a national exposition jointly sponsored by the National Development and Reform Commission, Ministry of Industry and Information Technology, Office of the Central Cyberspace Affairs Commission, and Guizhou Provincial People's Government. This year, the committee assembled the most revolutionary scientific and technological achievements worldwide, authoritative experts, government and enterprise guests, and leading owners of technological achievement. This solidifies the event and its recognition in the industry.
Let's take a look at these industry-leading innovative AI services provided by HUAWEI CLOUD:
ModelArts: a Faster One-stop AI Development Platform
In October 2018, HUAWEI CLOUD officially released ModelArts to reduce the threshold to AI development and promote implementation of AI. ModelArts provides data processing, intelligent labeling, a readily packaged development environment, large-scale distributed training, automatic model generation, a comprehensive AI marketplace (including the first AI model marketplace in the country), and comprehensive AI development for "device-edge–cloud" deployment in all scenarios. These features help users quickly and efficiently create and deploy AI models and manage the entire development lifecycle.
On March 20, Stanford University released the latest DAWNBench ranking. ModelArts won the image recognition training and inference performance categories. The time required to train models was greatly reduced and inference performance was enhanced. This accomplishment reflects on ModelArts as a leader in deep learning platform technology.
Since its release, ModelArts has been applied in artificial intelligence scenarios, such as healthcare, smart manufacturing, automatic driving, smart city, construction, and campus, to help enterprises such as Kingmed, Glodon, and Cloudansys implement AI development.
OCR: Accuracy of Thai and Burmese Character Recognition Is Above 99%
The HUAWEI CLOUD intelligent OCR (Optical Character Recognition) is the first of its kind in unified data extraction technology. It supports text detection at arbitrary angles, device-cloud privacy protection, and multiple languages (outside of common words). The OCR service uses deep learning and transferred learning models to eliminate interference. The multilingual OCR supports identification of certificates such as ID cards, driving licenses, and passports in Southeast Asian countries. The accuracy of Thai and Burmese character recognition is above 99%. This much-needed solution fills a gap in the industry.
HUAWEI CLOUD OCR has been successfully applied in global healthcare, customs, logistics, finance, insurance, government, transportation, automobile, and manufacturing industries. For example, identification of insurance policies and medical documents is provided to help insurance companies improve work efficiency and speed up claims. In the medical field, companies can identify and quickly build a database of pharmaceutical instructions. In the logistics field, Huawei improved the efficiency of multiple top courier enterprises by helping them complete automatic identification of various types of documents.
HiLens: Device-Cloud Collaboration AI Platform
HUAWEI CLOUD HiLens is a device-cloud collaboration AI platform for AI application developers, software and hardware vendors, and the average user. It consists of device-side computing devices (such as cameras) with AI reasoning, and cloud development platforms to help users quickly develop AI abilities and push them to these device-side computing devices. The computing device on the HiLens side collects and analyzes data locally, and quickly responds to the analysis results, greatly reducing cloud data traffic, and saving on storage costs. The device side collaborates with the cloud side to perform reasoning, and the device-side model is updated online to quickly improve the precision, and balance low latency and high precision to resolve instability in networks. The HiLens service can be used in a wide range of scenarios such as home, campus, shopping malls, vehicle-mounted, work sites, advertising, and media.
Knowledge Computing Cloud: Helping Achieve Knowledge Transformation
Huawei's one-stop E2E knowledge computing solution provides a full-stack cloud platform for building services from knowledge acquisition to knowledge modeling, knowledge management, and knowledge application. It was built with high-performance graphic computing engines and a flexible plug-in design. Implementation of knowledge graphing services is made effective in multiple domains and scenarios.
During the 2018 expo, Zheng Yelai, Vice President of Huawei and President of HUAWEI CLOUD, re-emphasized the Inclusive AI strategy, which aims to make artificial intelligence effective and inexpensive. For the past year, HUAWEI CLOUD has continuously explored the implementation of AI in over 300 projects in 10 industries. As of Q1 2019, HUAWEI CLOUD had released 59 types of artificial intelligence services, with 159 functions in total.
HUAWEI CLOUD is committed to becoming the "fertile soil" of the smart world by providing stable, reliable, secure, and sustainable smart cloud services. The brand is bringing AI services to empower enterprises, developers, and hundreds of intelligent industries.